The Financial Literacy Council of Greater Hamilton County is a non-profit whose mission is to promote financial knowledge and skills among Hamilton County residents while also improving access to financial services.
The Availa Kares College Savings Program is the first program under their development and is in partnership with Availa Bank and Hamilton County.
We would be honored to have your support.
Platinum: $1,000+
Gold: $500-$999
Silver: $200-$499
Bronze: $50-$199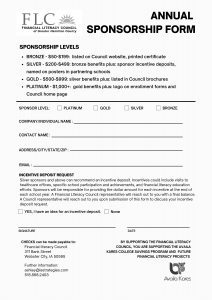 Download additional sponsor details FLC Sponsor Flyer 2021
Download the 2021 Sponsor Form